Johnny Hatch Day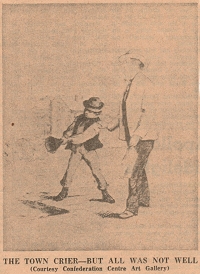 My friend Johanna in The Pas reminds me that I missed Johnny Hatch Day last week, so I have to make up for it:

Fire was the plaque of 19th c. towns and Charlotte Town was no exception. My story today is about a fire that hit on a hot July 22nd night in 1883. It was at what is now the Bank of Commerce corner.

It started in a stable out back and before it was over J.D. McLeod's store had burnt, along with Dr. Jenkins house and stable, Archibald White's warehouse, the Police Station and Donald McKinnon's office and the apartment of John Hatch, our town crier, and his wife.

The activities of the Fire Department that night were reported in the Daily Examiner the next day: "The Silsby had taken position at Dawson's Tank, laid her hose in haste, and was speedily at work under command of Captain Hickey in the rear of Mr. Hutcheson's grocery store - unfortunately the length of hose burst shortly after she commenced operations .... replaced quickly and after a few minutes was again battling the devouring flames - Rollo Engine secured the tank at Market Square and under command of Capt. Wonnacott worked well. Old Tremont was also at the fore, under Capt. Beer - While the Hook and Ladder Co. under Capt. White worked like Trojan's during the fire." [You see, we had four fire companies in those days and four fire stations and the competition was heavy]

The next day in full optimistic style the editorial suggested that we use the fire site for a new City Hall with "a hall that will seat 2,500 to 3,000 persons our city would be want supplied"!!!!! Remember our City Hall was then in one end of the Old Wooden Market House which of course was located where our Confederation Centre Theatre was built 81 years later with ONLY 900 seats --- and those hard enough to fill 100% making the ambitions of our 1883 friends admirable.

Anyway the story does not stop there. Before the week was up the newspaper had another tale to tell. "A Young Fire Fiend" was the headline. "A boy who would burn Charlottetown 'for fun', adopted son of John Hatch ... Johnny in his youth has manifested a great admiration for thrilling scenery. A sight of Mont Aetna or Vesuvius would make his heart rejoice, but as PEI cannot afford 'grand blazes' like those, Johnny contends himself with blazes more miniature. He is accused ... but this accusation the young fiend denies with youthful indignation while he cheerfully confesses to setting fire to the Police Station on Friday night and attempting to set fire to William Kennedy's ice house the night before".

Well talk about police interrogation, the newspaper went on to include The Confession. "I am nine years of age. A pretty good boy. Go to Kent Street School, can read a little. I am fond of setting fires..." and on it goes. Goody Hogan and Katie Allan were with Johnny that night and even though they were only 13 and 12 they were interrogated too. The results were that "... the boy Hatch has a mania for lighting fires and that it is highly probably that he started the fire at McLeods. The magistrate decided to keep him in custody for the present and have him sent to the Home For Little Wanderers at Boston".

Poor Johnny Hatch that is where he went and we have lost track of him after.

Say Johnny Hatch are you looking for a match?
Do you really want to scorch the city with a torch
Are you going to play the game called Set the Town Aflame
And burn down Charlottetown this morning!

That is the chorus of a song we had Oscar Brand write when he was performing at the Confederation Centre in the summer of 1967.


Written Friday, July 28, 2000 at 03:54 PM