I'm Number 2522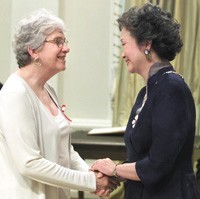 Well it was quite the week in Ottawa and it took another week to get caught up in work and rest. I miss the constant company after a session like that. Ottawa is a wonderful city that can make a Canadian proud. We visited the National Art Gallery and The Museum of Civilization and as an extra bonus we had lunch in the Parliamentary Restaurant as guests of Senator Catherine Calbeck and followed that with a visit to the House of Commons for question period and then a short visit to the Senate. The market district is wonderful and the market particularly appealing this time of year. It was great to visit Tin House Square and remember Stan White , better known around here as Stan of Green Gables.

And now to the very special part where as our father would say "I was the best girl of her age in the house" ... on May 31st we dressed up in our finery [promoting my friend David Campbell to say "you clean up good" ] and took off for Rideau Hall. They have a very strict rule that you can only take one guest, but there were a few extra seats for the installation ceremony only and so I was allowed to take Betty to the whole show and, very fortunately, Mary Claire to the installation - which was really a very important part. Those girls looked good and they would have done our parents proud...and they are dears, too. That left our niece Mona, friend Kate MacDonald and Gary Carrol to look after themselves that night. BUT when we got home we opened the Mumm's champagne that was sent me by Charlottetown friends - along with orchids - and we toasted "history, heritage and the arts" and promised to work harder for the causes in the future.

The Minto was a great place to stay. We had a suite with kitchen, living room/dining and two bedrooms and baths so the five of us and all the quests we entertained were very comfortable. The night before the BIG DAY we invited a number of our friends from various times in our lives and it was so very nice to have them ... Heritage Canada days, Canadian Museum Assoc., some great cousins by marriage, Confederation Centre friends, our MPs and Senators, etc. To serve on national boards is a very special privilege and makes one feel so very Canadian ... and I have been blessed that way because I now have friends all over this great country.

Fifty-two other Canadians were installed in Orders Of Canada that evening. "Desiderantes meliorem patriam - proclaims the aspirations of its members who, in their lives and work, have shown that 'they desire a better country' " and as you sat there and watched each individual approach Her Excellency you were overwhelmed by the efforts of such great Canadians and wondered what you can do now to justify you being included. Watch, I'm going to work hard. Check out the Governor Generals web site and you can read up on the list. The Website is www.gg.ca.

Rideau Hall, although architecturally it is a peculiarity, is very special and these incumbents have made it so warm and welcoming. Works of arts, Canadian books and furniture abound. And they have a very good chef, too.

Such an event - and the many, many wonderful letters and calls I have received here at home has made me shake my head and wonder how it all came about. My thanks to you all.


Written Friday, July 13, 2001 at 05:23 PM